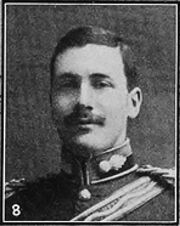 Captain Cecil David Woodburn Bamberger was an English officer of the British Army who died during the First World War.
He was born on 22 December 1883, in Islington, the eldest son of timber importer Louis and Emily Bamberger (née Woodburn). After graduating from University College School, Bamberger enrolled at the Royal Military Academy, Woolwich in January 1902. He passed out the following year, being commissioned as a second-lieutenant, and in 1906 joined the British Army in India. There, Bamberger was employed at the Eastern Junma Canal and with the Mishmi Road Work party before, in 1913, he assumed responsibility for the Jhansi Division Betwa Canal.[1]
Bamberger arrived on the Western Front in September 1914, with the 1st King George's Own Sappers and Miners, part of the Meerut Division of the Indian Expeditionary Force. He died on 19 December, near to Festubert, while directing the construction of a barricade in a section of trench captured by the 2nd Leicestershire Regiment, which came under German mortar and machine-gun fire.[2] A brother, William, a lieutenant with the 1/5th Gloucestershire Regiment, died in 1917.
He is buried in Bethune Town Cemetery
↑ The Times (40737), Col E, p. 8: "Fallen Officers". 29 December 1914.
↑ Wylly, Harold Carmichael (1928), History of the 1st & 2nd Battalions, the Leicestershire Regiment, in the Great War, p. 115.
References
Edit
Ad blocker interference detected!
Wikia is a free-to-use site that makes money from advertising. We have a modified experience for viewers using ad blockers

Wikia is not accessible if you've made further modifications. Remove the custom ad blocker rule(s) and the page will load as expected.