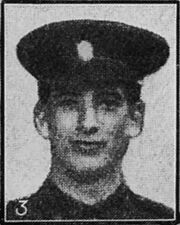 Private David Ginsburg was an English soldier of the British Army who died during the First World War
He was born in 1892, in Kensington, the son of Russian-born glazier Samuel and Sarah Ginsburg. At the time of the 1911 census, Ginsburg was working with his father and brother while living with his family at 126 Portobello Road.
Ginsburg died on 16 December 1914, of wounds received on the Western Front, while serving with the 13th (County of London) Battalion (Kensington), The London Regiment. His brother, Benjamin, also a private in the London Regiment, died in 1918.
He is buried in Estaires Communal Cemetery and Extension.
References
Edit
Ad blocker interference detected!
Wikia is a free-to-use site that makes money from advertising. We have a modified experience for viewers using ad blockers

Wikia is not accessible if you've made further modifications. Remove the custom ad blocker rule(s) and the page will load as expected.