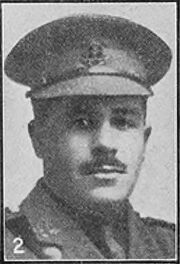 Second Lieutenant Edgar Barnett Samuel was an English officer of the British Army who died during the First World War.
He was born in 1886, at Marylebone, the son of Nelson, a partner in musical instrument manufacturers Barnett Samuel and Sons,[1] and Harriet Samuel (née Hymans). Samuel studied at Clifton College before entering his father's firm. Away from his profession, he was an active supporter of the Jewish Lads' Brigade and took a keen interest in the conditions of East End workers.[2]
Samuel enlisted on the outbreak of war, joining the Public Schools Battalion of the Duke of Cambridge's Own (Middlesex Regiment) as an other rank.[2] In March 1915, having attained the rank of serjeant, Samuel was commissioned as a second lieutenant. He died on 30 January 1916, on the Western Front. He had been mentioned in dispatches.
He is buried in Cabaret-Rouge British Cemetery, Souchez.
↑ Barnett Samuel and Sons, gracesguide.co.uk. Retrieved 31 October 2012.
References
Edit
Ad blocker interference detected!
Wikia is a free-to-use site that makes money from advertising. We have a modified experience for viewers using ad blockers

Wikia is not accessible if you've made further modifications. Remove the custom ad blocker rule(s) and the page will load as expected.