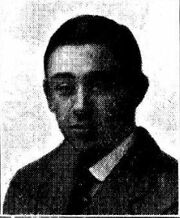 Private Frederick William Laurisch was an English soldier of the British Army who died during the First World War
He was born on 9 June 1896, at Oak Hill, Levenshulme, the son of German-born Julius, an Aniline dye merchant originally of Berlin, and Sarah Elizabeth Laurisch (née Simpson), of Ulverston. The younger Laurisch received his initial education at South Manchester Grammar School before he continued his studies at Rossall School and in Germany.[1]
Laurisch volunteered soon after the outbreak of war in 1914, joining the 20th (Service) Battalion (3rd Public Schools), The Royal Fusiliers (City of London Regiment). He was twice wounded on the Western Front while employed as a bomb thrower, firstly on 14 March 1916, which prompted his being sent to England on sick leave. He sustained fatal wounds on 14 June 1917, in the Ypres sector, from which he succumbed four days later, at No. 3 Canadian Casualty Clearing Station, Reninghelst. He belonged to the 9th Royal Fusiliers on his death.[1]
He is buried in Lijssenthoek Military Cemetery.
References
Edit
Ad blocker interference detected!
Wikia is a free-to-use site that makes money from advertising. We have a modified experience for viewers using ad blockers

Wikia is not accessible if you've made further modifications. Remove the custom ad blocker rule(s) and the page will load as expected.