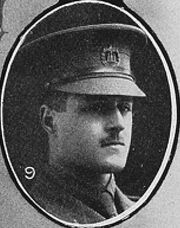 Second Lieutenant Gerrard Alexander Louis Ohlmann was an English officer of the British Army who died during the First World War.
He was born in 1891, in Paddington, the younger son of German-born paper merchant Morris Alexander and Emily Ohlmann (née Morris), of Hampstead. Ohlmann was educated at University College School, afterwards continuing his studies in Lausanne and Frankfurt.[1]
In September 1914, Ohlmann joined the Inns of Court Officer Training Corps and was commissioned into the 3rd Dorsetshire Regiment.[1] He died on 29 September 1915, in the Battle of Loos, while serving with the 3rd Battalion, The Royal Fusiliers (City of London Regiment) on the Western Front. He was one of 355 casualties, killed and wounded, incurred by the battalion during successive German attempts to retake lost trenches.[2]
He has no known grave and is commemorated by the Loos Memorial.
↑ O'Neill, H. C. (1922), The Royal Fusiliers in the Great War, pp. 79-80.
References
Edit
Ad blocker interference detected!
Wikia is a free-to-use site that makes money from advertising. We have a modified experience for viewers using ad blockers

Wikia is not accessible if you've made further modifications. Remove the custom ad blocker rule(s) and the page will load as expected.