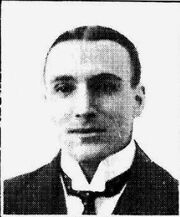 Lance Corporal Mendel Isidore Trachtenberg, BA was an English soldier of the British Army who died during the First World War.
He was born on 12 June 1882, at St Giles, the son of Russian-born insurance agent Isidore Mendel and Eva Trachtenberg (née Lyons).
Trachtenberg received his education at Latymer Upper School and St John's College, Cambridge, graduating with honours in the Mathematical Tripos of 1904 as First Senior Optime. As a statistician, Trachtenberg joined the Tariff Commission in 1906, then under the stewardship of William Hewins, and was a fellow of the Royal Statistical Society.[1] Away from his profession, he was a keen writer and poet, debater, amateur actor, and a member of the Operatic Class of the Trinity College of Music. He married Jennie Paulin Luxemburg, of London, on 4 November 1913.[2]
When the Derby Scheme was insituted in 1915, Trachtenberg voluntarily attested, but was not called up until 1918. Upon being selected, he joined the 39th (Service) Battalion, The Royal Fusiliers (City of London Regiment), which formed one of a number of battalions collectively known as the Jewish Legion, and went to the Middle East to serve with the Egyptian Expeditionary Force. He died on 12 October, at the Italian Hospital in Jerusalem, having contracted malaria.[2]
He is buried in Jerusalem War Cemetery, Israel.
↑

The Eagle - Volumes 39-40, p. 40.
References
Edit