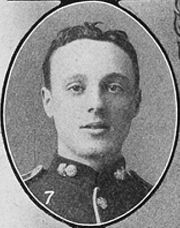 Private Morris (or Maurice) Frederick Bamberg was an English soldier of the British Army who died during the First World War.
He was born on 3 December 1887,[1] at Kimberley, South Africa, the son of David and Catherine Bamberg (née Cohen), both of London. His parents soon after returned to England, where his father remarried, in 1900, to Kate Moses. At the time of the 1911 census, the younger Bamberg was stationed in India with the 1st Battalion, The Northumberland Fusiliers.
Bamberg died on 24 August 1914, during the Battle of Mons. He had landed in France, with his battalion, only a few weeks before his death.
He has no known grave and is commemorated by the La Ferte-sous-Jouarre Memorial.
↑ School Admissions and Discharges, 1840-1911. London, England: London Metropolitan Archives.
References
Edit
Ad blocker interference detected!
Wikia is a free-to-use site that makes money from advertising. We have a modified experience for viewers using ad blockers

Wikia is not accessible if you've made further modifications. Remove the custom ad blocker rule(s) and the page will load as expected.