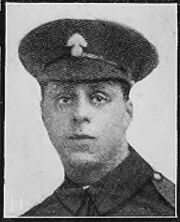 Private Nissim Lisbona was an English soldier of the British Army who died during the First World War.
He was born in 1882, in Prestwich, Lancashire, the son of Syrian-born parents Moses, a shipping merchant, and Mazal Lisbona. The younger Lisbona studied at Manchester Grammar School before graduating from Manchester University as a Master of Arts. He entered law, being called to the Bar at Gray's Inn in 1908, and practised in Manchester until the outbreak of war in 1914.[1] At the time of the 1911 census, Lisbona was residing with his family at 3 Heston Terrace, Bury Old Road.
Lisbona volunteered in September 1914, enlisting in the 20th (Service) Battalion (3rd Public Schools), The London Regiment. He arrived in France in November 1915,[1] after which he served at the front and on attachment to the headquarters of the Royal Engineers, where he was engaged in legal work. At his own request, Lisbona was returned to his battalion in July and died on the 20th of that month, at High Wood, during the Somme Offensive.[2]
He is buried in Caterpillar Valley Cemetery, Longueval.
↑ The War Book of Gray's Inn: Containing Names of Members who Served, with Biographical Notices of Those who Fell; Speeches in Hall on Various Occasions; and an Introduction Descriptive of the Activities of the Society During the War, p. 120.
References
Edit
Ad blocker interference detected!
Wikia is a free-to-use site that makes money from advertising. We have a modified experience for viewers using ad blockers

Wikia is not accessible if you've made further modifications. Remove the custom ad blocker rule(s) and the page will load as expected.