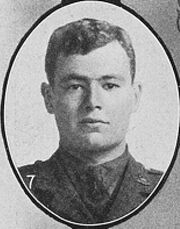 Lieutenant Ronald Henry Preuss Arnholz was an English officer of the British Army who died during the First World War.
He was born on 3 September 1897, in Hampstead, the son of South African-born solicitor Henry Preuss and Amelia Julia Arnholz (née Marks), of London. His education took him to University College School, where he was vice-president of the institution's preperatory branch and a corporal in its Officer Training Corps. When war broke out in 1914, Arnholz elected to enlist in the Inns of Court O.T.C. rather than continue his studies. He afterwards passed his solicitors' preperatory examination and, in November, was articled to his father.[1]
Arnholz was commissioned on 25 March 1915, in the Hertfordshire Regiment. His colonel would not permit him to go to the Western Front, owing to age, and so he volunteered for service in Mesopotamia when the opportunity arose in January 1916. He departed for the Persian Gulf on 10 February and served in the campaign on attachment to the 5th Battalion, The Buffs (East Yorkshire Regiment) until being overcome by dysentery. His illness saw him hospitalised in India for four months before he returned to England. He was promoted to temporary lieutenant in February 1917, a promotion made permanent in August. That month, Arnholz volunteered for the Western Front, but he was not sent over until 16 April.[1]
He died on 23 August 1918, in the Second Battle of Bapaume, while serving on attachment to the 1st Battalion, The Bedfordshire Regiment. His battalion sustained many casualties resulting from machine gun fire.[2]
He is buried in Adanac Military Cemetery, Miraumont.
↑ 1st Bn 1918 War Diary, bedfordregiment.org.uk. Retrieved 6 March 1918.
References
Edit
Ad blocker interference detected!
Wikia is a free-to-use site that makes money from advertising. We have a modified experience for viewers using ad blockers

Wikia is not accessible if you've made further modifications. Remove the custom ad blocker rule(s) and the page will load as expected.