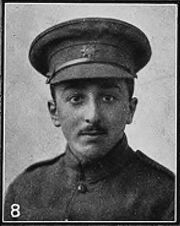 Private Selim Bernstein was an English soldier of the British Army who died during the First World War.
He was born on 28 May 1894, in London, the eldest son of Alexander, an estate agent and builder, and Jane Bernstein (née Lazarus).[1] Amongst his siblings was Sidney, founder of Granada Television, one of the four original franchises authorised by the Independent Television Authority.
Bernstein had been a volunteer in the Middlesex Hussars, enlisting under the name "Burns". He died on 8 September 1915, during the Gallipoli Campaign against the Ottoman Empire, of wounds sustained from a reported "dumdum" bullet.[2] His brother, Max, donated the "Salim Bernstein Memorial Scholarship Fund" and the "Jane Bernstein Memorial Scholarship Fund" to Tel Aviv University, Israel, in commemoration of his brother and mother.[3]
He is buried in Green Hill Cemetery, Turkey.
↑ Eyles, Allen (1998), The Granada Theatres, p. 15.
↑ Moorehead, Sidney (1988), Sidney Bernstein: A Biography, pp. 1-2
↑ Scholarships, p.14, tau.ac.il. Retrieved 18 October 2012.
References
Edit