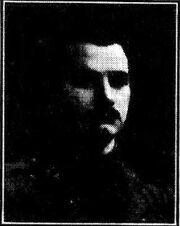 Captain Sydney Fraser McAlpine Cesari was a Scottish officer of the British Army who died during the First World War.
He was born on 2 December 1889, in Inverness, the son of Italian-born Francis Felix, proprietor of the Birnam Hotel and formerly a soldier in the Italian Army, and Norah Cesari (née Herbert), of England. Cesari was educated at Perth Academy and Edinburgh University, achieving medals in surgery and anatomy. After graduating in July 1913 and passing his chemical examination for M.D.,[1] Cesari became house physician at Edinburgh's Royal Infirmary.[2]
Cesari had been commissioned into the Royal Army Medical Corps in April, in the year of his graduation, as a member of the Special Reserve of Officers. As a student, he had belonged to Edinburgh University's Officer Training Corps, attaining the rank of cadet corporal. Cesari went to France in August 1914, soon after the outbreak of war. He was shot and fatally wounded on 3 October 1915, at Vermelles, while in the process of transferring command of dug-outs for wounded soldiers to another officer.[1] He had been serving with the 6th Field Ambulance.
He is buried in Bethune Town Cemetery.
↑

Edinburgh Medical Journal, 1915, p. 310.
References
Edit
Ad blocker interference detected!
Wikia is a free-to-use site that makes money from advertising. We have a modified experience for viewers using ad blockers

Wikia is not accessible if you've made further modifications. Remove the custom ad blocker rule(s) and the page will load as expected.