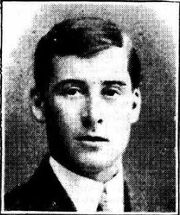 Second Lieutenant Victor George Brindley was a South African officer of the Royal Air Force who died during the First World War.
He was born on 5 February 1890, in Maritzburg, Natal Colony, the son of George Joseph and Minnie Elizabeth Brindley. The younger Brindley was educated in England, at Mill Mead and Oundle School, before going into farming with his father.[1]
On the outbreak of war, in August 1914, Brindley volunteered for the South African Army, with which he initially served in the campaign against German South-West Africa. In December 1915, he went to Egypt with the 3rd South African Infantry. His battalion remained in North Africa until it was transferred to the Western Front in May 1915. There, Brindley spent about 15 months in the trenches, surviving, among others, the battles of Delville Wood and Vimy Ridge, before entering the Royal Flying Corps on 29 July 1917. He was commissioned in November and returned to the continent on 14 July 1918. Brindley died just one month later, on 18 August, in an unspecified engagement.[1]  
He is buried in Villers-Bretonneux Military Cemetery.
References
Edit
Ad blocker interference detected!
Wikia is a free-to-use site that makes money from advertising. We have a modified experience for viewers using ad blockers

Wikia is not accessible if you've made further modifications. Remove the custom ad blocker rule(s) and the page will load as expected.