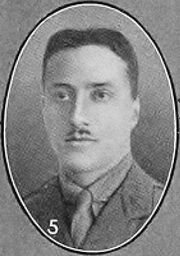 Second Lieutenant Victor David Grossman was an officer of the British Army who died during the First World War.
He was born in Darjeeling, India, the son of James and Rachel Grossman (née Howard), both of Calcutta.[1] At the time of the 1911 census, Grossman was boarding in Clifton as a student.
Aged 18, Grossman died on 15 September 1916, during the Somme Offensive, while serving with the 24th (Service) Battalion (1st Tyneside Irish) Battalion, The Northumberland Fusiliers. Grossman had been engaged with a working party in Contalmaison when he was hit by shellfire.[2]
He is buried in Becourt Military Cemetery, Becordel-Becourt.
↑ On the Banks of the Ganga: The Sojourn of Jews in Calcutta.
↑ Sheen, John (2010), Tyneside Irish, p. 125.
References
Edit
Ad blocker interference detected!
Wikia is a free-to-use site that makes money from advertising. We have a modified experience for viewers using ad blockers

Wikia is not accessible if you've made further modifications. Remove the custom ad blocker rule(s) and the page will load as expected.