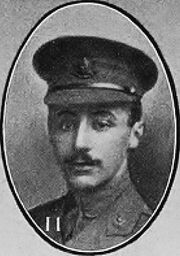 Captain Wilfrid Max Langdon was an English officer of the British Army who died during the First World War.
He was born on 14 February 1889, in Manchester, the son of shipping merchant Edward Henry and Ada Langdon (née Hesse), both of the city. Langdon's education took him to Rugby School, the University of Munich, and New College, Oxford. At the latter institution, Langdon, as a history scholar, placed first class in the Final Classical School and History School. He was called to the bar at Inner Temple in 1913 and was to have entered the Northern Circuit. War, however, precluded that, and Langdon volunteered, enlisting as an other rank in the Public Schools Battalion of the Middlesex Regiment.[1]
Langdon secured a commission in December 1914, in the Cheshire Regiment. He went to the Western Front with its 10th (Service) Battalion in September 1915 and died on 21 May 1916, during a concerted German attack at Vimy Ridge.[1]
He is buried in Ecoivres Military Cemetery, Mont-Saint-Éloi.
References
Edit
Ad blocker interference detected!
Wikia is a free-to-use site that makes money from advertising. We have a modified experience for viewers using ad blockers

Wikia is not accessible if you've made further modifications. Remove the custom ad blocker rule(s) and the page will load as expected.