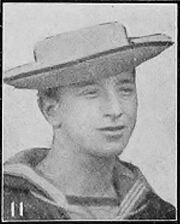 Stoker 1st Class William Stern was an English sailor of the Royal Navy who died during the First World War.
He was born on 3 July 1892, at Bishopsgate, London, the son of Jacob Cohen, a waterproofer, and Esther Stern (née Moses). Stern joined the Royal Navy in 1909, on a 12-year commitment.
Stern died on 5 September 1914, when the German U-boat U-21 torpedoed and sunk the scout cruiser HMS Pathfinder, off St. Abbs Head, Scotland, with the loss of 259 crew. The cruiser thus became the first vessel to be sunk by a submarine.[1]
He has no known grave and is commemorated by the Chatham Naval Memorial.
↑ Green, Geoffrey (2007), England expects ...: British Jews under the white ensign from HMS Victory to the loss of HMS Hood in 1941, p. 68, jhse.org. Retrieved 19 Octobr 2012.
References
Edit
Ad blocker interference detected!
Wikia is a free-to-use site that makes money from advertising. We have a modified experience for viewers using ad blockers

Wikia is not accessible if you've made further modifications. Remove the custom ad blocker rule(s) and the page will load as expected.